Biography
with Stefan Ulbricht
Stefan Ulbricht was born in Bonn in February, 1982. Already at the age of 5, he became interested in music and started to take guitar lessons. At the age of 14 he switched to the piano and was infected by the "boogie and blues virus" in 1997 while watching boogie and blues on tv.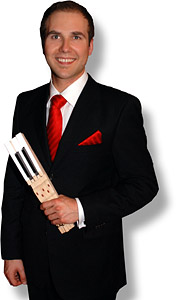 As an autodidact, he began studying his favoured music style. It didn't take long that he learnt to know many famous musicians on concerts and jam sessions. He shares a very special and close relationship with the "grand master of boogie woogie" in Germany, Leopold von Knobelsdorff. He owes him a lot of music al stimulations.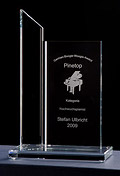 Since 1999, Stefan Ulbricht has been performing on various stages all over Germany as well as other countries in Europe, as there are: Hamburger Jazzmarathon 2002, Zukunftspreis 2006, Frankfurter Musikmesse, Pianistenfestival in Hamburg (Vince Weber, Gottfried Böttger, Frank Muschalle, Axel Zwingenberger, among others), Medienkulturnacht in Bonn, Bonner Sommer, Boogie Woogie Konzertexpress with Axel Zwingenberger, Boogie & Blues Festival with Leopold von Knobelsdorff, International Boogie Woogie Festival in Laroquebrou/Frankreich 2009, several Jazz Nights, regularly concerts in jazzclubs, like Dr. Jazz in Düsseldorf as well as numerous private parties and business occasions.
Playing solo piano, or accompanied by other musicians, the audience enjoys his fast and melodious boogies as well as jazz and blues songs from the 30's, 40's and 50's. The rolling bass figures, played with his pounding left hand, and the swinging melody are his trademarks. This is clearly evident in listening to his own compositions or well known classics like "Boogie Woogie Stomp" or "Lady Be Good" in the style of Albert Ammons.
In January 2003, Stefan recorded a CD called "Shift It Up" together with Dennis Koeckstadt (he plays piano with B.B. & The Blues Shacks) and brother Jan Koeckstadt on the drums. This CD features 17 driving and swinging tracks played on two grand pianos.
With Michael van den Valentyn he founded the boogie duo "4 Hands Shakin'" a few years ago. A CD was recorded live in Wiesbaden in October 2004, titled "Live in Wiesbaden". This is the third of four CDs available.
His latest CD "Big, Bigger, Boogie", was recorded on the world's largest grand piano serially produced, the Fazioli F 308, in April 2009 with Moritz Schlömer on the drums, who is a versatile and exceptional boogie pianist, too. The sound of the Fazioli F 308 is oustanding and can be heard throughout the record.
On October 24, Stefan Ulbricht was honoured with the 2009 German Boogie Woogie Award "Pinetop" as best piano player in the category "Rising Star 2009".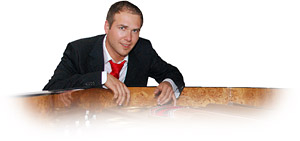 "Germany's boogie woogie community has been flourished by the awardee's unique style, who created something new based on the classical boogie woogie tradition. To do this, he looks further than the classic repertoire player does. Even to songs that are not typical boogie woogies, he adds the infamous boogie woogie groove. The audience will experience new aural impressions."
For more information see www.pinetop.de
According to his fresh and innovative style, not one single foot can resist this irrisistable rhythm.

Auszeichnung 2009 - Nachwuchspianist